Brooks Nader + Billy Haire Winter Wedding Bliss in South Louisiana!
It's exciting to watch any couple begin the next chapter of their lives. The sparkle is never lost on us. However, when Holland Nader booked our photography services for her daughter's wedding, none of us — not even the bride — new the extra layers that would be added to her celebration. You see, Brooks Nader is a Sports Illustrated model now married to William Haire. Her fame alone made the wedding very interesting, but after booking us, Brooks won the 2019 Sports Illustrated Swimsuit model search competition and was named 2020 model rookie of the year for the magazine, which added another level of intensity to the day.
We are all so excited for her. This was such an amazing boost to her career and, well, ours too!
We loved the challenge of photographing a high-profile event and appreciated the trust she so delicately placed on our shoulders. All of this only increased our desire to do our absolute best with every aspect of the day.
Then, to add even more fun to the mix, Brooks decided to take a shot at a People magazine exclusive to announce her marriage to Billy. And days later, both The Knot.com and Brides.com jumped at the chance to showcase their celebration.
Based on experience, we knew how important it would be to pay attention to the details on this particular day, so we are grateful Brooks had hired Leslie Campbell to plan her wedding, and that it would feature the always-gorgeous florals from Billy Heroman. We worked to prepare and to anticipate every possibility, but with every passing day, the pressure mounted. Not only would People magazine need photos, but more and more features were being added to the celebration — and all the images would need to be delivered the week immediately following the wedding!
As I told Brooks, "I love a challenge and I appreciate that you are a go-getter!" We both knew that this was going to add many layers to how we approach photographing the wedding day. Knowing that attention to the details were more important than ever, I was so grateful she had hired Leslie Campbell to plan her wedding and with Billy Heroman bringing his team, I knew there was not much to worry about when it came time to capture the many details of this celebration. Especially now that not only was People magazine wanting photos but more features were being added and needing photos immediately, as in the next week, immediately!
But we didn't panic. We never panic. Working closely with Brooks, we created a plan to make the edits, learned how she wanted the enhancements to look and prioritized the delivery of the photos. A good majority of them were finished before the last candle from the reception was extinguished, and the world got their Brooks and Billy wedding celebration "fix" the very next day!
To do all this, we gathered a team of photographers and even our office manager to work on the photos almost in real time as the day progressed. We pulled Brooks away for a moment between events to approve the choices so we had a large group of photos ready to send before the reception ended. Our confidence in our team was cemented that evening, but none of this could have happened without Brooks' amazing ability to make quick decisions — and quick changes. She completely reset the tone for her "reception look" with a new dress, hairstyle, and makeup — all without missing a single moment of her celebration. It was truly magical and worth the planning and hard work everyone put in.
High fives to all that made this evening such a grand success!
We first and foremost, we want to thank Brooks and Billy. But we also need to call out our team made up of Emily Green, Taylor Waston, and our office manager, Jessica Sarkar. They all showed up with their talents and brought their creativity, making them a force to be reckoned with! Everyone put on whatever hat was needed at the moment and worked instinctively together as if we could read each other's minds.

It was awe-inspiring and at times a bit surreal, but nonetheless a total blast. We are very proud of the beautiful story we produced as the night unfolded. Everything seemed to go exactly right and we are all beaming and sincerely grateful for the team.
We also need to give a big shout out to the Nader and Haire families for keeping their wedding professionals local and trusting in what we all have built right here in southern Louisiana. It's always an honor to work with such fine professionals creating an extremely magical and exceptional wedding celebration. Everyone that helped that evening was touched by your confidence in us and deeply honored to be a part of such a happy time in your life.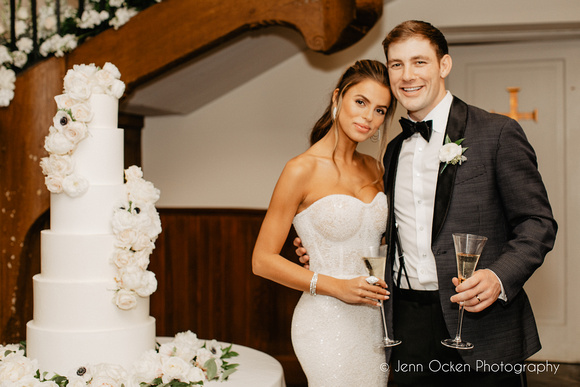 So THANK YOU, Brooks and Billy and your beautiful families. You gave us an opportunity to shine, and we truly love all that we did together. And thanks to any and all publications that took the time to feature this magical day. The Jenn Ocken Photography team is honored to have played a part in its success. Everything was truly picture perfect!
_____________________________________________________________________________________
Brooks + Billy's Wedding Features:
People Magazine - Model Brooks Nader Is Married! See Her Gorgeous Oscar de la Renta Wedding Dress
Style Me Pretty - See All the Photos from Sports Illustrated Model Brooks Nader's New Orleans Winter Wedding!
The Knot - Exclusive: 7 Dreamy Details From Supermodel Brooks Nader's New Orleans Wedding
Brides - Model Brooks Nader's Romantic Winter Wedding in New Orleans
InRegister - Picture perfect: Brooks Nader and Billy Haire's New Orleans wedding
Yahoo! - Exclusive: 7 Dreamy Details From Supermodel Brooks Nader's New Orleans Wedding
DailyUK - From bikinis to bridal couture! Sports Illustrated Swimsuit star Brooks Nader wows in an Oscar de la Renta gown as she marries fiancé Billy in a fun-filled New Orleans wedding that ended with a Mardi Gras-style PARADE
_____________________________________________________________________________________
Brooks + Billy's Complete Vendor List:
Ceremony Venue: St. Mary's Church
Reception Venue: Old Ursuline Convent
Wedding Planner: Leslie Campbell Weddings & Events
Floral Design: Billy Heroman's
Videography: Nathan Willis
Hair: Beth Washington
Bridesmaids' Hair: SoHo Boutique Salon
Bride's Makeup: Bruce Lindstrom, using Charlotte Tilbury
Bridesmaids' Makeup: Amy Thornton
Officiant: Father Tony Rigoli
Bride's Ceremony Dress: Oscar de la Renta
Bride's Reception Dress: Viero Bridal
Bride's Veil: Daphne Newman Design
Bride's Jewelry: Ring Concierge; Angara Jewelry
Bride's Shoes: Dee Keller
Groom's Attire: Tom Ford
Engagement Ring: Jade Trau
Wedding Bands: Hamra Diamonds
Invitations: Ceci New York
Ceremony Music: Dreux Montegut
Cocktail Hour Music & Second Line: Paulin Brothers Brass Band
Reception Music: The Time of Your Life Band
Catering: Ralph Brennan Catering
Wedding Cake: Chasing Wang
Rentals: Perrier Party Rentals; LoveGood Rentals
Transportation: American Luxury
Accommodations: The Ritz-Carlton New Orleans
Guest Photography: Boogie Booth
Ice Sculpture: Ice Dragon
After-Party Venue: Lafitte's Blacksmith Shop Bar