CAPTURED MOMENTS CONTEST
2016 Weddings

Contest is closed, here are the winners!
WINNERS:

$100 Print credit: Meg McCormick Songy
Free Portrait Session: Errin Flynn Viguerie
Love at L'auberge Bridal Show Tickets: Linnea Langley
White Oak Bridal Show Tickets: Jena Purpera
Free Engagement Session: Taygabbi Landreneau


Contest Rules
The contest takes place on our Facebook page: Jenn Ocken Photography, under the album "2016 Captured Moments Contest: Best of Weddings"
How to win, THREE WAYS:
1. For new brides, comment "New Bride!" on all of your favorite photos to be entered to win 1 of 3 prizes:
-engagement session giveaway
-2 tickets to the White Oak bridal show (March 5th)
-2 tickets to Love at L'auberge bridal show (Feb 19th)
*Each comment is an entry and there will be 3 new bride's winning 1 prize each
2. The client's photo with the most likes and comments gets a $100 print credit
3. Whoever shares the album or a photo gets entered in a drawing for a FREE portrait session
Voting ends on February 2nd at midnight!
Like, comment, & share away to win!
(LINK TO FACEBOOK PAGE)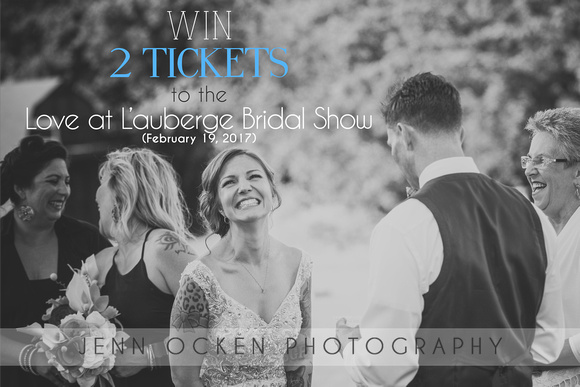 CLICK HERE to go to Facebook Page to VOTE!