Every year I am amazed by what our clients come up with when it comes to selecting outfits for their portraits for the Fall and Holiday photo card pictures! So impressed we just had to share some family portrait outfits with our JOP party people! And really NOW is the time to book your fall family portraits with Jenn before it gets too late and her calendar is booked up. We are looking forward to a busy portrait season!
And to make this year a little easier for you we put together color options for inspiration!
CLICK HERE or contact our office today to book! 225-590-3731 or [email protected]
_________________________________________________________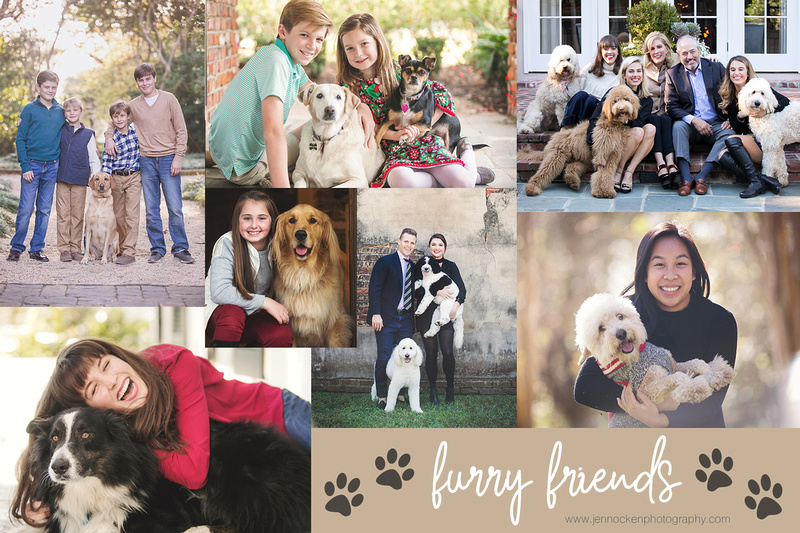 Fall Style 7: Furry Friends
While this isn't so much about what you wear, but who you have with you! Bring along your pets to the session to make sure the whole family is included. They lighten the mood and make the session so fun!
---

Fall Style 1: Shades of Blue
This is a go-to style because it always photographs well and everyone loves blue! You can mix in grays, white, and cream along with your denim and blue. Denim is a classic and adds great texture in your family portraits. Also, blue clothing can really pop on a green background so keep in mind where you are wanting to take your portraits!
---

Fall Style 2: Holiday Spirit
If you want that classic green and red Christmas look, go for it! You can always mix white and khaki items in to tone it down. Perfect for JOP's one of a kind designed holiday photo cards!
---

Fall Style 3: Color Expression
This fall style is for you bold and playful people who like to have fun! Mix those colors and patterns and have fun with it! Express yourself through your clothes and don't hold back. Your portraits will definitely stand out from the rest!
---

Fall Style 4: Clean White
This is the most classic and timeless you can get! White looks great with any background and draws the attention to the people and not the clothes. You can always layer with white to add little pops of color or texture. This style goes with any season and is so versatile!
Ready to book? Click here!
---


Fall Style 5: Cool Neutrals
If you shy away from bright colors but still want more than just white this style is for you. Stay classic and sophisticated for your fall portraits in this color scheme of neutral colors. All of these colors go great with each other and the results are a timeless look that never goes out of style!
These fall portraits are perfect for your Holiday photo cards (which we also custom design for you!!)
---

Fall Style 6: Layers and Plaid
This is a great style to mix and match patterns and textures! Fur, plaid, and warm colors are the core of this fall style. Don't be afraid to add layers, they photograph extremely well! It is a classic fall look that is cozy and cute.
---
CLICK HERE to Book Now!! Contact our office at 225-590-3731 or [email protected]
We would love to take your family's fall portraits!