Be JOP Inspired! So you and your family have scheduled portraits with a photographer!
A lot of the time, planning what you're going to wear can be stressful and overshadow the fun of the actual portrait session. JOP is here to make it a little easier in choosing outfits that best reflect your family's style and personality!
To schedule your fall portrait session, contact the office today!
225-590-3731 / [email protected]
__________________________________________
Southern Classic style tends to include monogrammed outfits, matching materials, and making a statement with your oversized bow! Choosing soft pastel colors is always a winner with a beach scene! Don't forget to avoid necklines that are high maintenance and might show unwanted undergarments.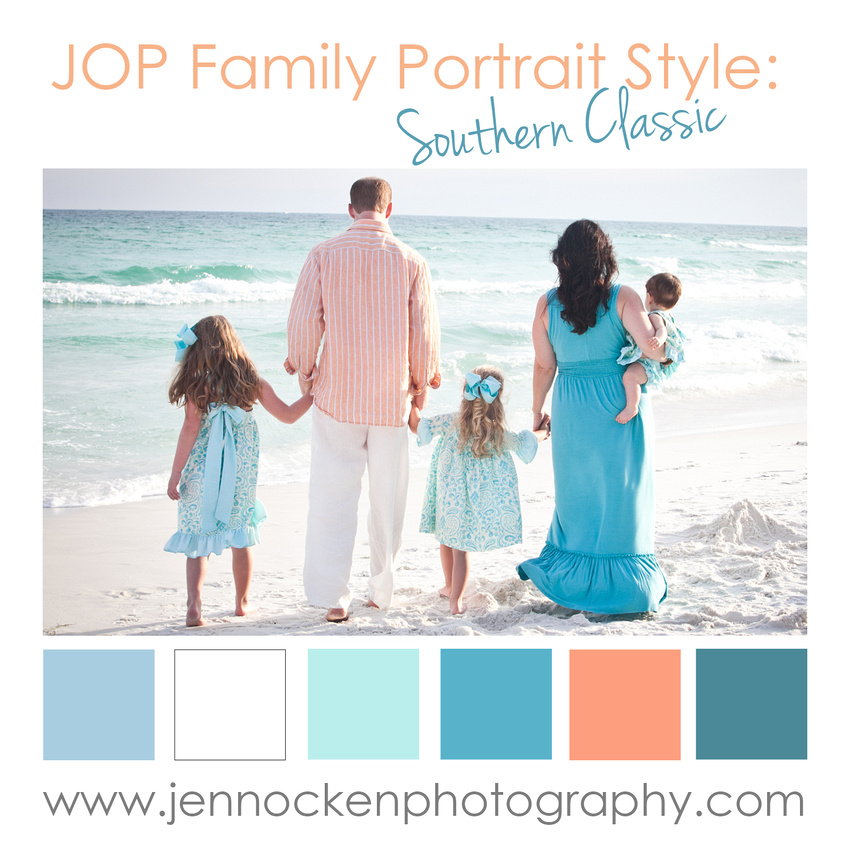 Click here to book your Fall portrait session, today!
Red, White, and BEACH! Nautical themed prints and primary colors are perfect options for your 4th of July beach photography session. It's always best to choose clothing that best resembles your family's personality and makes everyone feel the most comfortable.
Ready to schedule your portrait session?? Click here to contact the JOP office today!
For your portraits, be open-minded to color! Accessories are a great way to add personality to your look. Jewelry can be used in any color scheme, and prints are a great way to express your personality.
Want to book your portrait session today? Click here to start a conversation with Jess in the JOP office!
Thinking about the background of your portrait location can be your starting point of what colors to wear. We LOVE the navy blue against the dark greens of a natural outdoor setting!
Click here to book your portrait session!
Choosing solids over patterns is good when there are larger groups or older kids with age gaps. This helps the smaller children stand out in the group shots of everyone. These can be primary colors, complimentary colors, pastels, or neutrals!
Click here to book your portrait session with Jenn!
We love a great casual look! Neutral colors that compliment the surroundings of your portrait are always a classic, polished way to express your family's style. This look is simple yet sophisticated!
Need photos? Click here to get on our calendar for Fall Portraits!
Letting go of a cohesive, matching theme and letting the kids choose outfits that feel most comfortable in can result in expressing their true personalities. Feel free to get fun and funky to express yourselves!
Have you been inspired? Want to schedule a session with JOP? Click here to do so!
There's always the classic white and khaki look! Don't be afraid to mix it up and maybe find a khaki dress or white linen shorts to keep from everyone looking the exact same. This gives individuality while keeping with the traditional beach look. Be true to your style and think about how you want these photos to look 20 years from now.
Good News! You can click right here to book your portrait session with JOP today!
P.S. Always do a double check of your hair right before the session. Bring a brush or hairspray just in case! Also make sure you don't have anything in your pockets. Things that will leave an impression such as phone, glasses, wallets, etc. will draw attention to your backside! Don't forget to bring water and dry snacks (crackers, pretzels, cheerios, etc.) and baby wipes are better for runny noses than tissues!
Mimic Fall's color scheme with maroons, berries, browns, and plaid! Opt for a more natural setting for your portrait session to show off the beautiful changes in the leaves. Think about what would look good on your wall when you print and hang your family portraits!
Time to get those family portraits redone? Click here to schedule your portrait session with JOP today!
Mixing and matching patterns can still be easily coordinated when using a cohesive color scheme! We love the use of girly chevron and masculine stripes in the portrait above. Dad holds it all together with a classically tailored suit!
Skip the hassle, click here to contact the JOP office today and schedule your holiday portraits with us today!
Are you into planning your Holiday Cards way in advance? Think ahead when dressing for your Christmas Card portraits by choosing colors that will compliment the season. Give it an old-school Americana twist by adding Navy!
How fun is this?! Click here to schedule your portrait session with JOP today!
GEAUX TIGERS! Okay, we got that out of our system. No matter the team, create family spirit by dressing in your favorite team's colors! This is perfect for the Fall (ahem, TAILGATE SEASON here in Baton Rouge!) and can be a cute way to show your kids' personalities.
To schedule your portrait session, contact the office today!
225-590-3731 / [email protected]
Click here to find out how to create a better portrait experience!