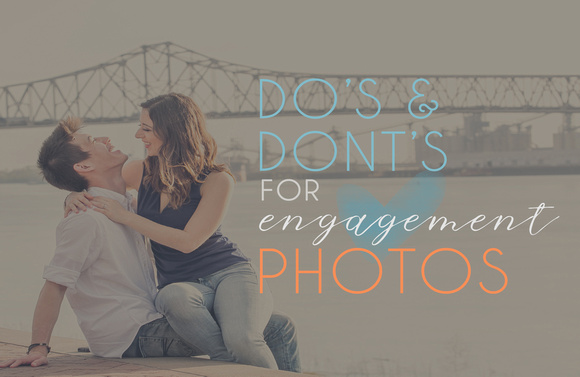 Have an engagement session coming up? Here are a few tips to make it fun and easy!
DO'S:
Allow moments to happen. Feel free to hang out and just have fun while the photographer shoots. Give yourself permission to forget the camera is there and just have a fun conversation filled with laughter and love! These photos are representative of your love for each other, so be those two people that fell in love with each other and your photos will reflect that!

Wear comfortable clothes! Make sure you wear something you love and that makes you feel confident. If you aren't comfortable, it will show in the pictures, believe me. I have seen it all too often.

Come prepared. Bring combs, brushes, touch up make-up, hair bands to pull back your hair if it's windy, a mirror, and anything else you may need for touch-ups. Water, snacks, and baby wipes are all good to have on hand, too.

Be strategic when choosing colors. Choose colors that are complementary to both your and your fiancés' complexion, eye color, and hair color.

Be true to your personality. Wear clothes that compliment your personal style and fit your body type. These are photos to celebrate your and your soon-to-be before you tie the knot! And you will keep them forever and show your children and grandchildren. Let the real you shine here!

To see our Engagement portfolio click here!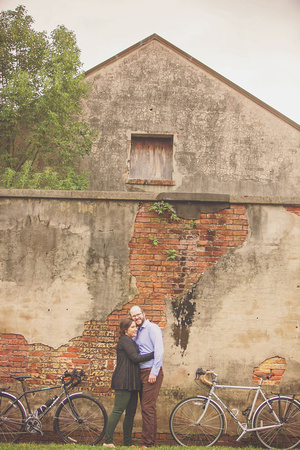 Now for the DON'TS:
Try not to overthink the photoshoot. I get it . . . nerves can show their ugly head in the form of overthinking the session. Relax and let your love show for one another by getting close to each other, letting those inside jokes fly, and showing admiration for one another throughout the photo session. Remember, pretending the photographer isn't here is a secret key to capturing authentic, timeless photos!
Don't have to be too "matchy-matchy." There is a balance between too matchy and not looking like you belong in the same space, much less photoshoot. Coordinate your outfits so the colors go well together, but don't wear the exact same thing. You want to look like lovebirds, not siblings, right?! We have some great color palettes to refer to for portraits! (LINK HERE)
Avoid logos printed on clothes! It is distracting in photos and takes away from the love story being told in the photos.
Don't get a new do. This includes a new haircut, color, highlights, or have a tanning session immediately before your photo session. It's best to schedule these at least a week before to combat any potential disasters.
Don't be too trendy. Choose classic, timeless styles. Trends come and go, so remember you will be admiring these photos forever.
Don't be afraid to get a little dirty. Sometimes the best shots might be on the ground, sitting on a low hanging tree branch, or leaning against a cool building. So, yes, that's another reason to wear comfortable clothes so you can create a full-on interactive session in with each other and your surroundings.
Don't over-accessorize. Much like logos, the jewelry should not be the center of attention. Accessories are best used to complement your look, not overwhelm it.
Don't out-do your fiancé. Don't dress up and have your fiancé wear everyday street clothes. You want to compliment each other, not steal the spotlight.
Here are a few great ideas for utilizing your engagement photos:
Photo Save-the-Date & thank-you cards
Save-the-Date Magnets
A parent or host/hostess gifts for pre-wedding events and/or rehearsal dinner
Creating a photo guest book sign-in as an alternative to your guest book at the wedding or other wedding-related events
If you want to check out our wedding specials head to the blog post HERE